Cookies:
1/2 cup whole wheat flour plus 2 TBSP
1 cup of AP flour plus 2 TBSP
1/4 tsp cinnamon
1 tsp baking soda
1/2 tsp kosher salt
3 cups old fashioned cooking oats
1 1/2 sticks of butter, unsalted, room temp
1 cup light brown sugar
1/2 cup granulated sugar
1 large egg
2 tsp vanilla extract
Cream Filling:
1/2 cup unsalted butter, softened
2 cups confectioners sugar
2 tablespoons heavy cream
1 teaspoon vanilla extract
Who didn't grow up and fall in love with the chewy delicious Little Debbie Oatmeal Pies? They are simply delightful. The creamy goodness in the center and the chewy yet firm oatmeal cookie? I am drooling just thinking about it. When I was little I was what my mom likes to call the food Nazi. You see my brother was one of those boys who couldn't gain weight for the life of him (and still is). As most of you can relate, as a teenage girl always watching my weight I was rather frustrated at the fact everyday he tried to eat as much as possible while I was trying to eat as little as possible:)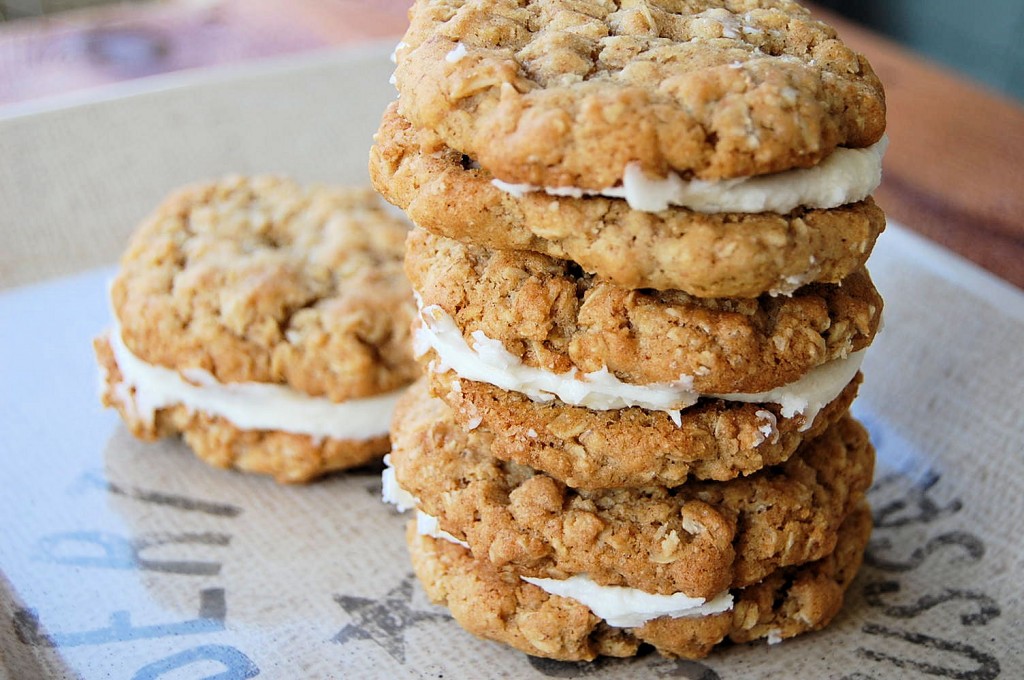 So the story goes that when my mom would buy certain snacks that we loved I would hide them in the pantry so my brother couldn't get to them or I would go tell on him for eating like a dozen of the cookies, hence oatmeal pies. Disregard the fact that she could just get more at the store, the point was my brother was eating and leaving me very little of my favorite snacks, those that I looked forward to as somewhat of a treat for doing so well with my girlish figure and it just wasn't FAIR!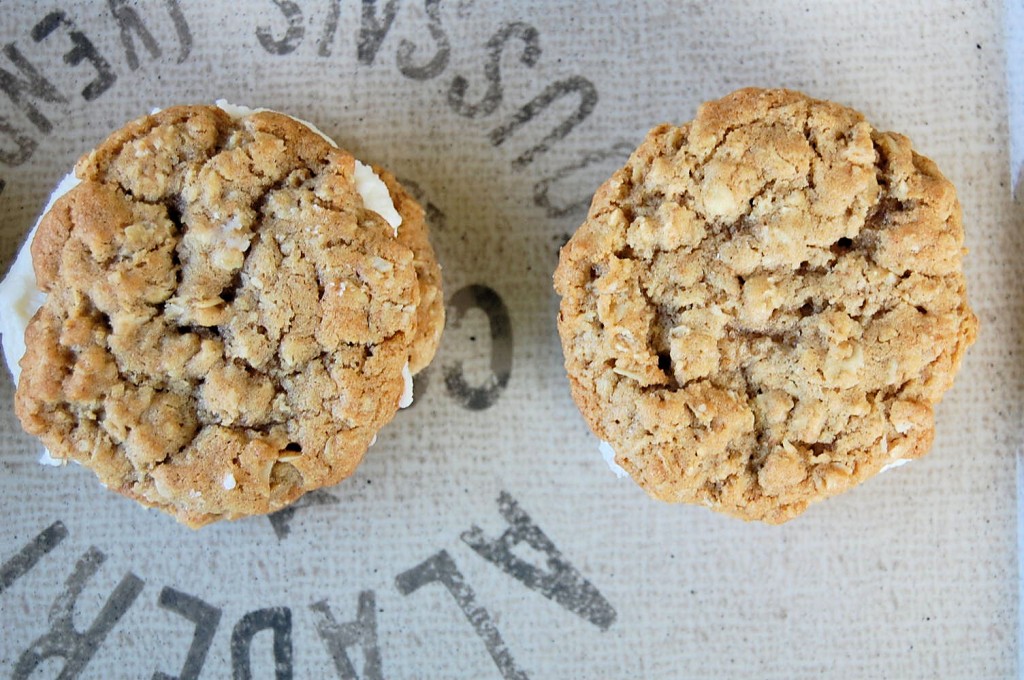 This is where the Oatmeal Pies come into play. They were one of mine and Phillips favorite snack and I love to this day. I found an old recipe for oatmeal pie cookies that I remember making a long long time ago but what I didn't remember was just how absolutely out of this world delicious they were. They are the perfect combination of the perfect textures, chewy, slightly hard, moist, buttery and well just perfect! Paired with the ultimate cream filling (from William's Kitchen), no one and I repeat no one can resist them!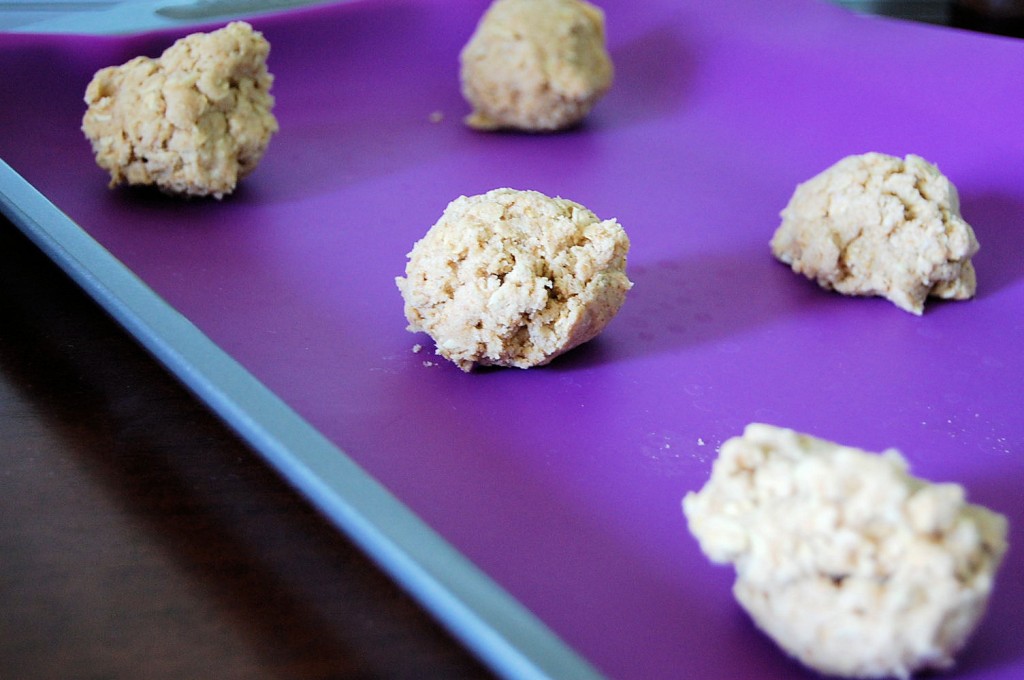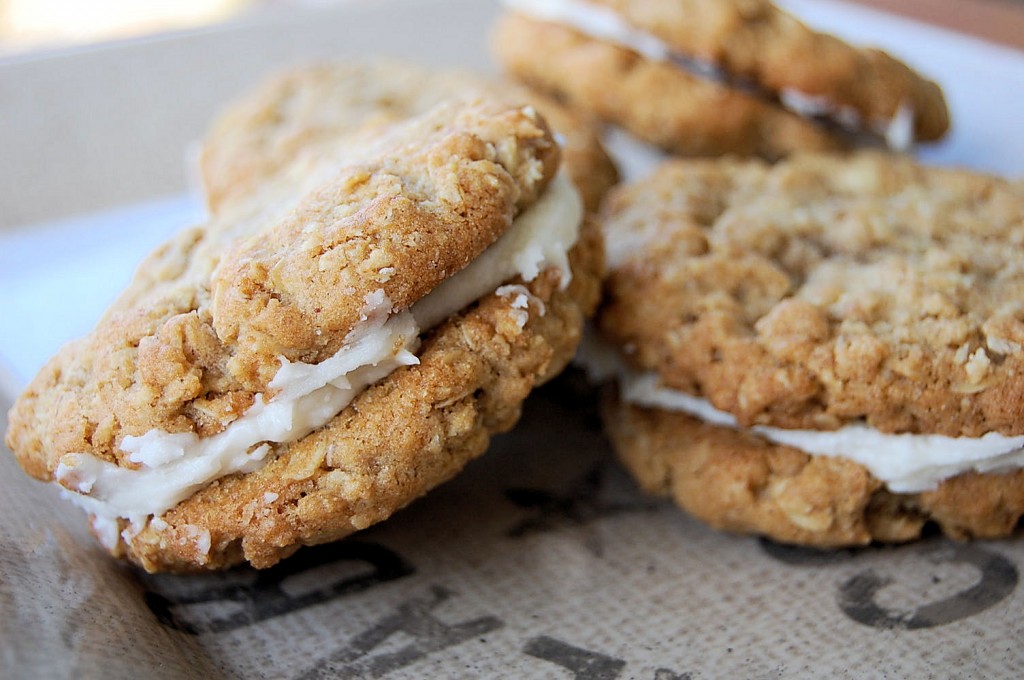 Directions:
Preheat oven to 375 . Line baking sheets with parchment paper or silicone liners. Whisk together flours, baking soda, salt, and cinnamon. Stir in oats. Set aside.
Using an electric mixer, beat butter, brown sugar, and sugar until creamy. Add egg and vanilla, and mix well. Gradually add flour mixture, stirring until well blended. Drop dough by rounded tablespoonfuls, 2 inches apart, onto prepared baking sheets. Bake 8-10 minutes. Cool on pan for 2-3 minutes, then remove to wire racks to cool completely.
Combine all ingredients in a medium bowl. Using an electric mixer on low speed, beat until combined. Then, increase mixer speed to high, and beat until light and fluffy. Spread about 1 tablespoon of filling over the bottom side of half of the cookies. Top with remaining cookies so that the bottoms of the cookies are facing the filling.