Lime Sherbet
Pineapple sherbet
Raspberry sherbet
1/2 cup mini chocolate chips
I am sure by now you have seen this cake idea floating around Pinterest but I just had to share my version with you. Actually, it isn't really my version as  their is no recipe (get sherbet-spread it-freeze-repeat) but nonetheless I wanted to share with you, my friends, what made my son jumping for joy this summer!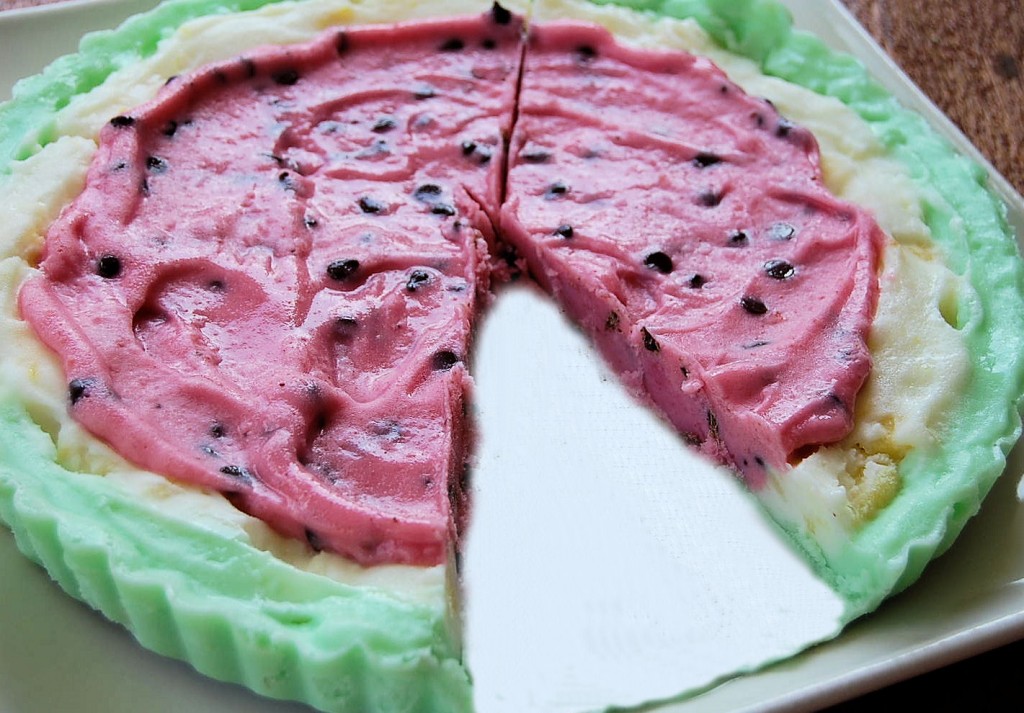 It is the perfect summer treat. Layers of raspberry with hints of chocolate form the center of the watermelon, exceedingly sweet pineapple sherbet is the flesh and tangy lime sherbet stands as the rind. You can't go wrong- you just can't! * I will be sharing this on Belleicious Kids this week too! So stop by and say hello!
Sorry I didn't get a "whole" shot of the cake. I made it for a rowdy group of kids and once they saw it I had about .5 seconds to make a decision between snapping a picture and risk getting attacked or start slicing! I started slicing!
Directions:
1. For each flavor, let the sherbet soften for a few minutes before using. The raspberry sherbet should be mixed with the mini chocolate chips.
2. Use a round springform pan or tart pan line the bottom with wax or parchment paper if you plan to transfer the entire "pie" to another dish before serving.
3. Starting with lime, spread a ring of sherbet around the edge of the springform pan – about 2 inches high (or taller if you want!), and about 1-2 inches wide from the outside edge of the pan.
4. Put pan in freezer to harden lime layer.
5. Repeat step 3 with the vanilla, but make the layer much thinner – maybe 1/2 inch. Use a butter knife to flatten the top, even-ing out the lime with the vanilla. Put pan in freezer to harden again.
6. Repeat step 3 with the red/chocolate chip sherbet. Fill the rest of the pan, then use a butter knife to flatten the top. Freeze!
7. When it's time to eat, run a knife around the edge of the pan before popping off the outside of the springform pan. Use a nice thin-blade knife to slice.